For over 20 years we have served the hydraulic, pneumatic and industrial supplies requirements for a wide range of customers in almost every industry across the Midlands conurbation. From our service centre at Nuneaton we aim to offer the highest standards of product quality and service


company. This statement is borne out by the
support we have received and in return we will continue to offer great value for money and quality service. The days are long gone when every order we received was a "special". We now maintain a very large stock commitment to give that "yes, its on the shelf" response, reducing downtime which inevitably leads to significant cost savings for the customer.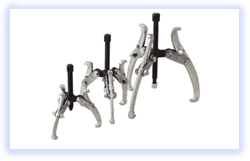 Here at Nuneaton the directors continue to fund ongoing investment in the service requirements of the company including additional stock, expansion of product
lines and additional delivery arrangements. This 'ploughing back' strategy displays our confidence in expanding the service to ensure that customers gain value from the investment. The distribution of industrial supplies to support the busy engineer has been the focus of the company since its fledgling days. Today,
more than ever before, the intensity of competition in this market place means that any successful supplier must be able to demonstrate a clear advantage. Our clear advantage is that we are a family run team who are prepared to go that extra yard to ensure that our service
is broader, faster and more professional than any of our competitors.
Malcolm Arnold,
Managing Director